Home
About
Games
Contact
Retailers
Murderous Ghosts
Night Sky Games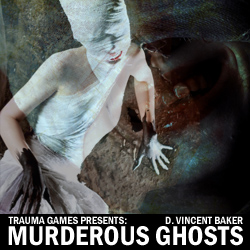 2 players, 20-60 minutes, intense horror.
Can you escape from the murderous ghosts?
(Hint: probably not.)
Play your book and your wits against the GM's book and her twisted, murderous, bloody imagination.
2 booklets, one for the GM and one for the player, 20 pages each. ZIP file includes 3 PDFs: for flat printing, for printing cutting & stapling, for screen reading.
Print version comes in a DVD case.
I process all orders by hand so please allow 24 hours for PDFs, 2-4 weeks for print, longer outside of the US.
Murderous Ghosts
D. Vincent Baker
Buy the PDFs at Payhip!