Home
About
Games
Contact
Retailers
the lumpley games pdf library
lumpley games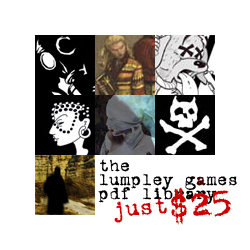 The complete set of lumpley games PDFs. Apocalypse World (including the Limited Ed refbook), Dogs in the Vineyard, kill puppies for satan, In a Wicked Age, Murderous Ghosts, Poison'd, and The Sundered Land, all for the low price of $25. That's half price!
I fulfill PDFs manually, using the Forge Bookshelf, so please allow 24 hours for delivery, longer on the weekend.
the lumpley games library
D. Vincent Baker
Buy the PDFs at Payhip!